Volunteer Info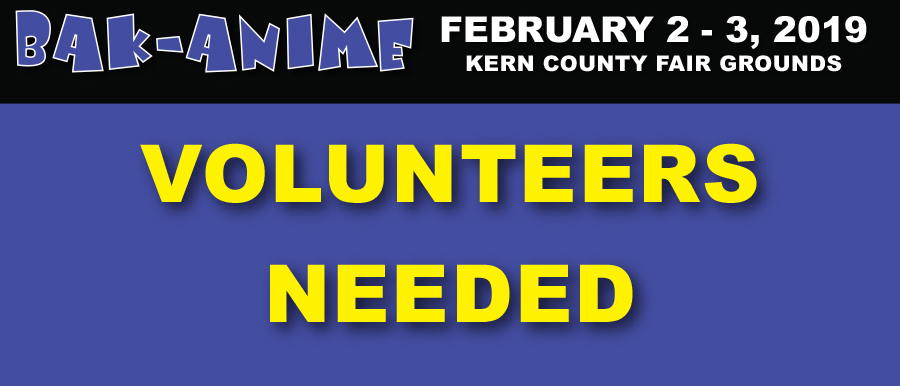 BAK-ANIME NEEDS YOUR HELP!!!
It takes a lot to run a show like this and we would be crazy to think we can do it alone.
We always need help watching doors, and some of the more simple deeds that just have to get done thru out the show.
Below is a link to go to if you are interested in being a Bak-Anime Volunteer. There are a few very simple rules to this…
1- Must be over 18 to work (16 with parent/guardians permission).
2- When assigned a spot, be willing to fulfill the task.
…Thats about it. Simple.
Here is what you get being a volunteer-
1- For 3 hours of helping the show you get the rest of the day admission For FREE!
(Yes, you can volunteer both days and be there for the weekend)
2- A copy of the limited VIP print that is just being given away at the door for VIP's and Volunteers ONLY.
3- The Thanks and appreciation for being part of the show (and if you are willing, we are always looking for permanent people to help out).
4- We will jump you into 1 autograph line ahead of the crowd (a line of your choice).
If you are associated with a School Club or Anime Club and want to get in some "community hours" or want to join as a group to volunteer. Please contact Shelly Loyd at "SixLoyds@hotmail.com" and talk to her directly (please put "Bak-Anime" in the subject line so she doesn't miss it).
Follow this very simple link below if you are interested in being a Bak-Anime Volunteer… and Thank You from all of us here at Bak-Anime and Bakersfield Comic Con.
SIGN UP SHEET
"http://www.slottr.com/sheets/9634944"